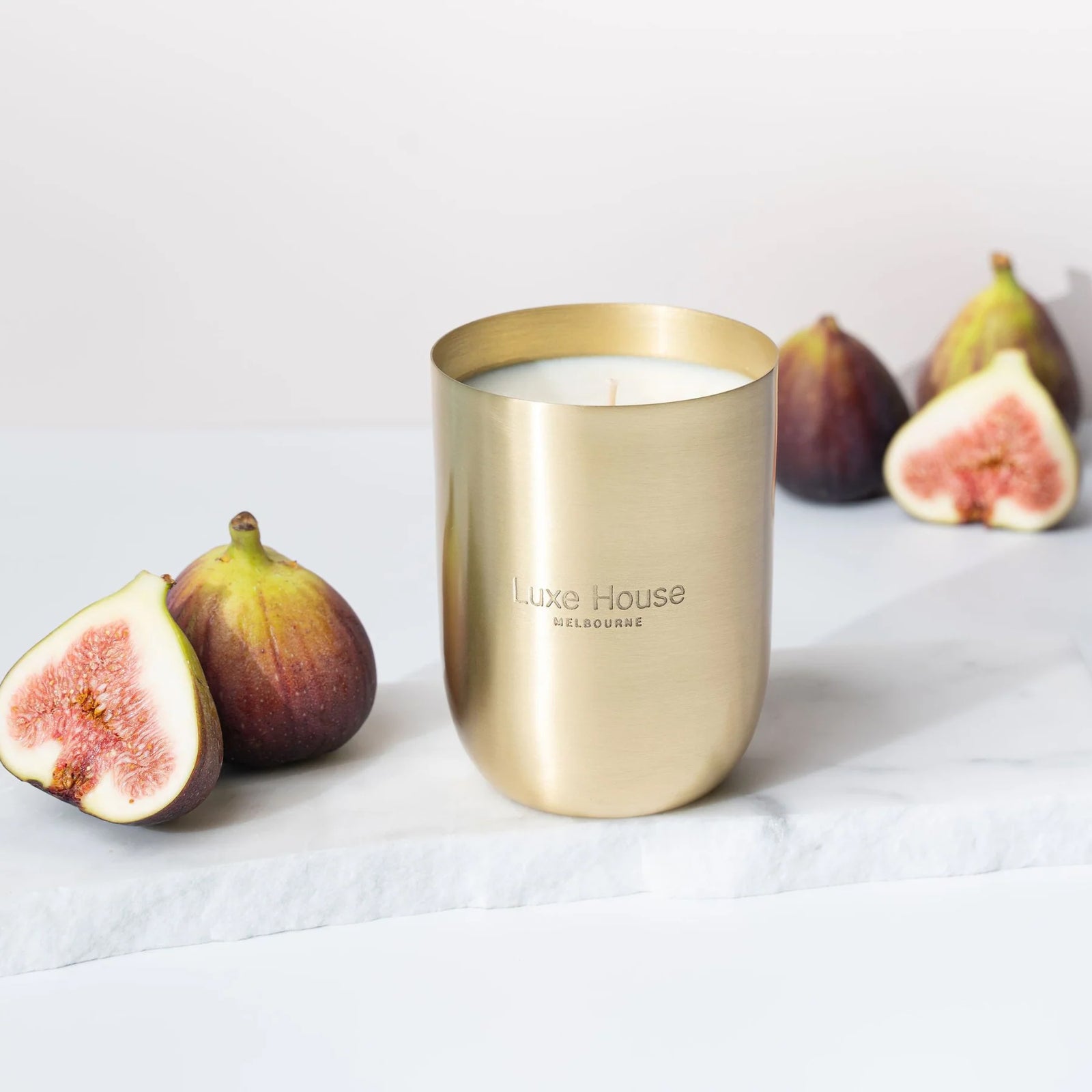 The following FAQ refers to our Luxe House Melbourne candles.
WHERE ARE YOUR CANDLES MADE?
Each one of our candles is hand-poured in Luxe House Melbourne's bespoke Melbourne studio. 
WHAT TYPE OF WAX DO YOU USE?
The candles are made from a balanced blend of coconut and pure soy wax, free from paraffin and palm oil ingredients. Coconut soy wax burns cleaner than a paraffin alternative, meaning no nasty chemicals are produced when lit - better for your health and for our environment. Coconut soy wax is also one of the slowest-burning waxes you can get. Coconut and soy are both renewable crops. We can replant and replace these crops with limited carbon impact and there are no animal products or by-products in coconut soy wax. An extra benefit - coconut soy wax is biodegradable, so when your candle's life is over, simply clean out the jar with hot soapy water.
Your candle may get a bumpy, uneven surface at times due to the nature of the wax. It can also be due to the inconsistent rate of cooling and unfortunately, it is difficult to control once the candle is lit and extinguished. If your candle does this - rest assured, there is nothing wrong. This does not affect the way the candle burns or the scent it throws. To ensure you do not experience other issues with your candle, please follow the candle care instructions provided.
Each Luxe House Melbourne candle is hand poured (no assembly lines, folks!), so each one will have a unique look after the curing (or setting) period has finished. We don't add chemicals or toxins to the wax to give it a smooth finish (this is one reason paraffin is used). Further, the candle may 'sweat' (release excess oil), crack, shrink or expand. Sudden temperature changes can also cause this to happen. If you notice your candle releasing excess oil, simply use cotton wool to wipe/dab dry. This can often happen during the domestic and international shipping processes. None of the above will affect the performance of your candle.
DO YOU USE DYES IN YOUR CANDLES?
Absolutely not! Adding dyes is not consistent with our healthy, environmentally friendly lifestyle. Candle dyes are usually aniline dyes, which are toxic, therefore we have chosen not to use dyes in our candles now - or ever.
CAN YOU TELL ME MORE ABOUT YOUR FRAGRANCE OILS?
We take fragrance seriously. We also take transparency with our customers seriously. Our current range of candles contain synthetic fragrance oils. Synthetic in that they are not formulated directly from plant origin. We use oils made specifically for candles to ensure best performance. Fragrance oils work better than essential oils in candles as fragrance oils are fine-tuned for the wax and fragrance oils typically throw a stronger scent. We use a minimal amount of fragrance (almost half the amount some other candles brands use!), but still enough to obtain a great scent throw. We use safe, high quality fragrance oils from verified suppliers and all of them are made right here in Australia. Our oils are certified as safe by the International Fragrance Association (IFRA). More information can be found about them here. None of our fragrances contain DEP phthalate or DEHP phthalate.  
WHAT WICK IS USED IN YOUR CANDLES?
It is of utmost importance to us to provide you with nothing but the best of quality, even down to the wicks we use in our candles. The size and the type of wick we use are crucial to your health and safety and also ensures the best burn. We use 100%, lead-free cotton wicks. The wick plays a key role - it delivers fuel (wax) to the flame. Too much fuel and the flame will flare and soot; too little fuel and the flame will sputter out. We rigorously test to ensure we are delivering the safest possible product.
CAN I RE-USE MY JAR?
Our candle jars have been carefully designed to ensure they are environmentally friendly. They can be either repurposed stylishly or simply recycled. After cleaning out the leftover wax with warm soapy water, use the jar as a make-up brush holder, to grow herbs in or use as a stationery cup, etc. 
WHAT PACKAGING DO YOU USE?
We have carefully selected biodegradable materials to support our products during the shipping process. We use biodegradable cardboard boxes and recyclable tissue paper instead of plastic bubble wrap. To secure our boxes, we use Biogone landfill-biodegradable tape. All stickers are also recyclable.
WHY DO I HAVE TO TRIM THE WICK BEFORE EACH BURN?
Trimming the wick prevents burnt wick dropping into the wax, it helps maintain a strong scent throw and ensures the correct flame height. Trim to 5mm before each burn to maintain good candle performance. The best way to trim the wick is with a wick trimmer.
WHY IS THE CANDLE FLAME HIGH AND WHY IS IT SMOKING?
This means the wick is too long. If either or both occurs, please extinguish the candle and trim the wick further.
HOW DO I GET THE MOST OUT OF MY CANDLE?
To ensure longer candle life, please follow candle care instructions provided. Burn times will also vary depending on environmental temperature and fragrance.
MY CANDLE HAS TUNNELED, WHAT DO I DO?
Tunneling can be caused by the wick being trimmed too short, the candle being blown out before a full wax melt pool has been achieved or if the air temperature is too cold. The trick is to get onto this issue sooner rather than later as it becomes more difficult to fix the longer you leave it. To fix tunneling, follow the simple steps below:
Light your candle.
Wrap a piece of aluminium foil around the outside of your candle (either all the way around, or partially around), with the top hanging over the areas where the wax has built-up. Ensure you leave an opening in the centre to allow the wick to get enough oxygen.
Burn candle for as long as it takes (without exceeding 4 hours) to melt all the wax to an even, level surface.
Remove foil AFTER you have blown out the candle and it has cooled down.
WHY HAS THE CANDLE WAX GONE YELLOW?
We do not use UV inhibitors in our candles, which has a downside - the wax may turn yellow. If left exposed to direct or indirect sunlight, your candle will slightly discolour. We suggest storing your candle in a cool, dark place to keep it white. In addition to this, particular fragrance oils which contain vanillin or citrus may also cause this issue. This will not affect how the candle performs.
CAN I GET RID OF THE BLACK MARKS ON THE INSIDE OF THE JAR?
Coconut wax can produce soot on the jar if the candle is not cared for properly. Extra smoke can occur if the candle is burnt for longer than recommended (4 hours) and if the wick is not trimmed regularly (we suggest trimming before each burn). The extra smoke creates the black soot. If you have this issue, once the candle has COOLED, simply wipe down with a damp cloth/paper towel (do not use any cleaning agents).
WHERE SHOULDN'T I BURN MY CANDLE?
Please keep your lit candle away from draughty areas such as near a window, a fan or air conditioning/heating vents. Please ensure your lit candle is a safe distance away from other objects such as plants, clothes, curtains and the wall. Always burn your candle on a stable surface.
CAN I MOVE THE CANDLE WHILST IT'S BURNING?
No! You could burn yourself if you attempt to move the burning candle. Please do not touch the jar when the wax is liquified. Candles have an open flame which makes the wax and the metal jar very hot. Please stop burning your candle when there is 1.5 cm of wax remaining at the bottom of the jar.
DOES MY CANDLE HAVE A SHELF LIFE?
As coconut soy wax is made from soybeans and coconut oil, it is considered an organic or natural product. This type of wax can degrade over time, therefore we suggest burning your candle within 12-18 months after purchase for best results.
WHEN SHOULD I STOP BURNING MY CANDLE?
To prevent the jar from overheating, please stop burning the candle when there is 1.5cm of wax remaining.