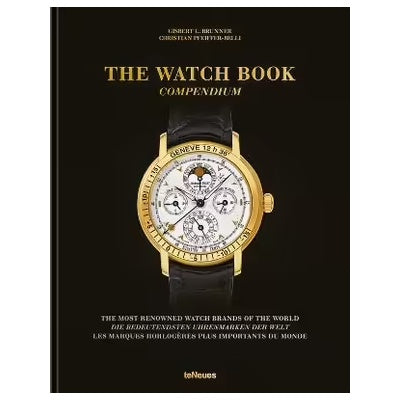 The Watch Book Compendium
Regular price
$135.00 AUD
/
Tax included.
---
The Watch Book I and II in one volume: Expansive knowledge from renowned watch expert and historian Gisbert L. Brunner alongside almost 1,000 high-quality colour photographs brings together the latest innovations and most important names in top-end timekeeping under one roof.

Few objects combine function, elegance, and status as well as a wristwatch. A blend of precise mechanics, craftsmanship, fine materials, and innovation distinguishes the truly superlative examples. With so-called smart watches playing a larger role, the world of watches is in transition. However, classic timepieces with mechanical movement will not disappear from people's wrists, because the ticking of a mechanical watch has been and will continue to be the heartbeat of human culture.

After their individual success, the bestsellers The Watch Book I and The Watch Book II are finally available together in one comprehensive volume. Readers can feast their eyes and minds on a magnificently-illustrated and well-documented chronicle of the world's best timepieces. Portraits of more than 40 watch brands, from premium manufacturers Patek Philippe, Rolex, and Cartier to watches from the "affordable luxury" segment, right up to timepieces from the chronometric creme de la creme. We explore their unique features and quirks and learn about the remarkable breakthroughs and exclusive technical developments that have contributed to the history of the watch.

Book Features:
The bestsellers The Watch Book I and The Watch Book II are finally available as one volume.
With the knowledgeable text of watch expert Gisbert L. Brunner and almost 1,000 pictures, we comprehensively pay tribute to the 41 most important watch brands in the world.
880 colour and 120 b/w photographs